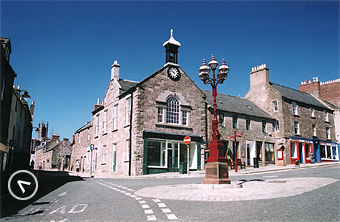 Where are we located?
The Local Information Office is in the heart of Brechin and provides information for locals and tourists alike. Car parking is only 30yards or so past the office on the right. The centre of Brechin is one of the oldest communities in Scotland and is steeped in History. Brechins famous Cathedral and Round Tower are only a couple of minutes walk and the Old Town House and Small Debtor's Court, earmarked for further development as major tourist attractions, are directly opposite.
It is also the offices of the Brechin and District Charitable Trust which is driving forward the issues defined under Brechin 2005 * The office is manned throughout the year from 2.00 pm during the winter months and from 10.00 am to 6 pm daily in the summer.
Myrtle Fisher who has lived in Brechin all her life is co-ordinating the effort of the eighteen volunteers who will man the Information Office during the summer months and will be open daily from 10.00 am to approx. 6.00 pm. The volunteers all live in Brechin and would be delighted to talk to you about the history of this ancient City and to guide you through what Brechin has to offer from visiting the shops, meandering through the old closes and identifying with some of Brechins Architectural Surprises or imparting information which may be of particular interest to you.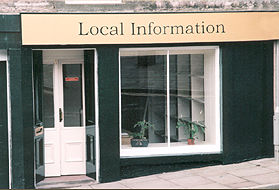 A warm welcome awaits you in Brechin.

The Brechin & District Charitable Trust
30A High Street, Brechin, DD9 6ER
TEL : 01356 622292

bdct@brechin-angus.co.uk